About
My name is Nathan Williams but I am better known in the online poker world as "BlackRain79." I am also an instructor at
DragTheBar.com
Crushing the Microstakes is a comprehensive guide on how to dominate your competition at the micros. However, it differs significantly in one key way from every other poker book out there.
As the author, I actually am the biggest winner ever at the stakes discussed in this book.
This is why it has now helped thousands of people turn their game around. Having played over 5 million hands with the highest winrates and winnings ever recorded at the lower end of the micros puts me in a unique position when it comes to writing a book about it.
I don't need to speculate. I know exactly what works and what doesn't in today's games.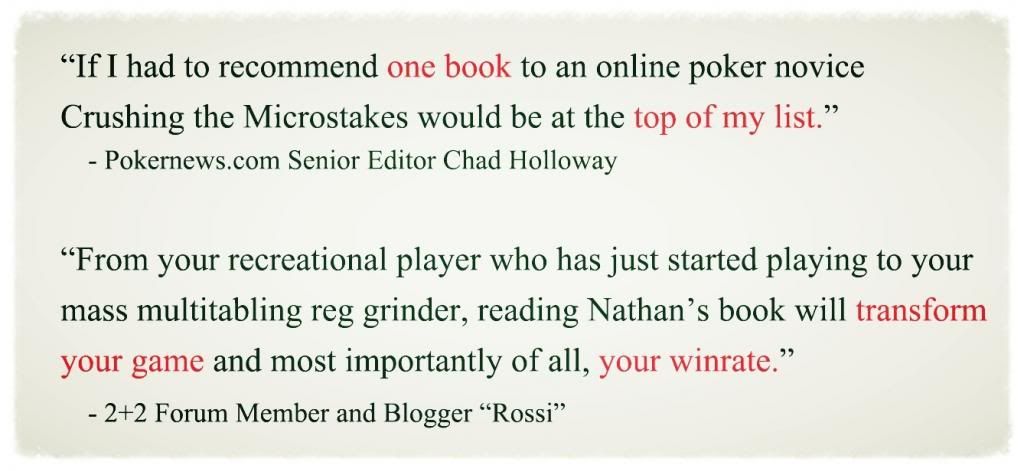 There is a common misconception out there that everybody breezes through the micros and moves on to greener pastures. Some do. But many don't. Why waste your time spinning your tires at these stakes for years and years on end? You should be printing money when playing them.

These are my results at the micros before rakeback (add 20k more). Please note that all winrates are in Big Bets/100. Double them for Big Blinds/100.
Intended Audience
Crushing the Microstakes is primarily targeted at
NL2, NL4 and NL5 full ring and 6max cash games.
It was written for beginners and people who are struggling at these stakes in general. Crushing the Microstakes provides a solid foundation for higher stakes as well but does not represent a complete guide for those games.
My other book
"Modern Small Stakes"
is targeted at NL10-NL100 full ring and 6max cash games. If you play in these games and breezed through the NL2-NL5 levels, then you would be better served to start there.
Synopsis
Crushing the Microstakes is an A to Z blueprint on what to do in every single situation imaginable at the micros from setting up your HUD properly to the final river raise. It is written in a style that is as linear and straight to the point as can be because the whole point of the book is for you to take these strategies to the tables and start crushing these games for yourself! From the total beginner to the experienced grinder this book instills a fundamentally solid TAG strategy for maximum success in 2015 microstakes cash games.
Table of Contents
The table of contents is featured below in the official Youtube release video for Crushing the Microstakes.
Individual screenshots of the table of contents are also listed below.
(Click to Enlarge)
As a whole, the book provides a terrific primer for the novice player who has some experience and perhaps even has spent time reading other strategy books or the forums but hasn't figured out how to apply those ideas.
- Betfair.com Senior writer Martin Harris
I believe had I been the owner of Nathan's book when I grinded these stakes it would have helped me improve my game at a much faster rate enabling me to move up faster. I would recommend buying it without hesitation.
- Former Pokerstars Team Online Pro Matthew "Chipstar1" Didlick
At a 30$ retail price Crushing the Microstakes could easily pay for itself for the novice player just getting into online, and for the player still struggling to do better than breakeven at 2nl, 5nl, or 10nl.
- Cardrunners Instructor Gareth Chantler
I give Crushing the Microstakes a big thumbs-up for players who are just starting out and even for players who haven't yet figure out that there isn't a single perfect strategy in poker.

- Former PartyPoker poker room manager and blogger Bill Rini
I recommend this book to anyone wanting to turn a profit at the micros. You really nailed it with this book. I "knew" in isolation a lot of the topics you discuss but I like how you bring it all together into an understandable overall strategy.

- DTB forum member johnsisk
This book delivers excellent guidance on how to beat the micros and is great value at the sale price of $19.95. If you play the micros then get this book..!!
- 2+2 forum member and blogger
If you play the microstakes, CTM is the next logical step. I bought it, read it (twice) and personally, think that it's one of those books that will stand the test of time.
- 2+2 forum member and blogger Lorant19

Press for Crushing the Microstakes
http://betting.betfair.com/poker/poker-news/poker-book-review-crushing-the-microstakes-by-nath-100212.html
Don't miss your chance to learn about the strategies and tools that have helped thousands of others start crushing these games. I am so confident that you will see big improvements in your game that I offer a
30 day money back guarantee.
If you feel that the book did not improve your game at the lowest stakes then just send me an email and I will issue you a full refund.
It's not really about confidence though. I have the best results in history at these stakes. Of course the strategies in this book work. And regardless, all the risk is on me. You have nothing to lose. Click "Add To Cart" below to get started.
Retail Price $29.95
Your Price $19.95
You Save $10.00 (33%)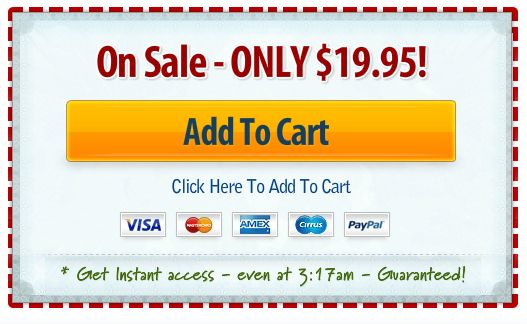 1) Purchasing with a Credit Card or Debit Card
Click "Add to Cart" above. Choose "Checkout with Paypal" and then select "Pay with a debit or credit card, or Bill Me Later" on the next screen.
2) Purchasing with Paypal
Click "Add to Cart" above. Choose "Checkout with Paypal" and then enter your Paypal details on the next page.
3) Purchasing with Skrill
Please send $19.95 to blackrain79@dragthebar.com Then send me an email with your Skrill email address and I will reply with your copy attached ASAP.
----------------
If you have any questions or problems concerning the payment process please email me at
blackrain79@dragthebar.com
and I will get back to you ASAP.
Please email me if you have ANY other questions about the book as well.
*Upon purchase you will receive the PDF, Mobi, and Epub versions of the book which are readable or printable on any computer, notebook, iPad, Kindle, smart phone or other mobile device. A physical version of the book is not available at this time.
Pages: 254
Word Count: 47,159
ISBN: 978-0-9878836-0-5
Copyright
© 2011 by Nathan Williams